New Identity. New Features. New Look.
Since we launched the company a year ago, we've done a lot of evolving and growing. Part of that evolution
is
a new brand identity and exciting new features based on customer feedback.
We redesigned xiQ around three principles:
Timeliness
Relevancy
Personalization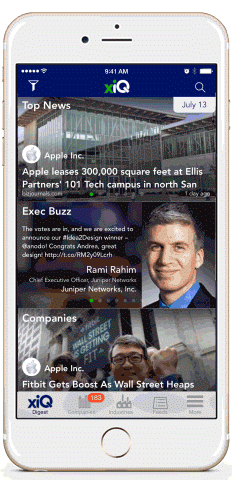 New digest format accelerates the process of discovery to action
We've added a summary of the day's top news, key topics and trends relating to your selected companies, industries and executives.
You can now search by people, companies, industries, topics, and more. And save searches so they become part of your personal feed.
The new Executive Buzz section delivers the top tweets from executives and companies you're following.
Tailored Profiles lets you further customize content to your specific role: Sales, Marketing, or Executive.
You can now Tweet directly to key executives without ever leaving the app. We even identify them for you.
Everything about
xiQ
has been streamlined to be faster, friendlier, and more functional. Because, at the end of the day, it's not just about business intelligence. It's about business inspiration.
xiQ just got exponentially better. Welcome to B2Best.