ACTIONABLE vs. STATIC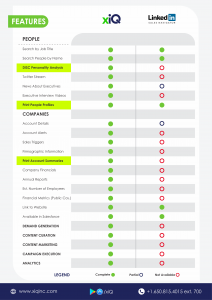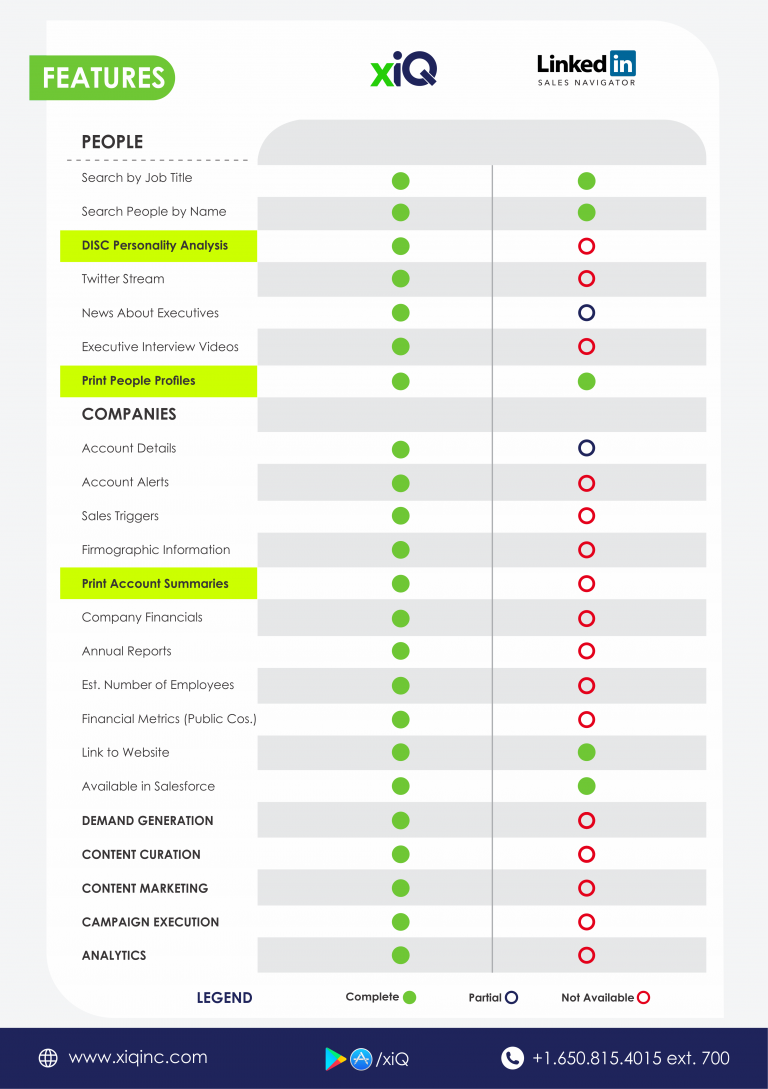 We are often asked how xiQ's AI platform differentiates from other sales tools in the market. Apps such as LinkedIn's Sales Navigator have provided a conduit for sales and marketing teams to engage with their customers and prospects. However, the marketplace is flooded with disparate sales and marketing tools that make it difficult for teams to intelligently focus their time and resources.
Realizing the needs of B2B selling, xiQ brings a one-stop solution which seamlessly integrates curated insights to:
Raise awareness about clients and prospects

Personalize customer engagement

Help you become a trusted advisors
The key differentiation between xiQ and LinkedIn can be summarized as Actionable vs Static. Here's why:
More than CVs and User Generated Content
LinkedIn provides an excellent foundation for basic information on professionals. However its unable to translate information into actionable sales intelligence and sales triggers.
AI-generated DISC Personality Analysis
xiQ's biggest differentiation is the ability to leverage AI and generate real-time DISC personality analysis. Similar to Myers Briggs, DISC analysis is a globally recognized psychometric analysis methodology. xiQ can generate an AI-based DISC analysis on over 1 billion professions from their publicly available information. The DISC personas and recommendations on how to engage prospects help sales reps personalize and custom-tailor their pitches.
Finger on the Pulse
Knowing when to engage with prospects is a key differentiator in B2B Sales. xiQ's PULSE is an interactive heat map that prioritizes accounts based on sales trigger activity. PULSE assists sales reps focus their precious time on value-based selling and relationship building with the right prospects at the right time.
Accelerate Account Research
Researching clients and prospects is a critical part of B2B sales. It is also a time vortex. Having the right tools with the right information at the right time has gotten harder. Stop wasting time juggling between multiple apps. xiQ provides in-depth company insights, sales triggers, CxO buzz, financials and much more – in one app.
Account Dossiers
At a click of button generate a comprehensive business summary of your target account. Included in xiQ's dossiers are CxO profiles, Company Financials, New Business Deals, side-by-side competitor analysis, mergers and acquisitions and additional insights supporting strategic selling.
Real-time Sales Triggers
There are many events beyond user posts and anniversary reminders, that require immediate sales action. xiQ curates millions of reliable news and social media sources filtering and categorizes business news into 19 sales triggers i.e. M&A, Deals, CxO News and many more. xiQ's real-time sales alerts ensures that you are never blind-sided.