Content plays a major role in Account-Based Marketing. Compelling and engaging content is required, at all levels of ABM, to tell your story to your prospects.
"Strong content is a currency in today's world. ABMers have to be really good storytellers. They have to be able to synthesize the complex down to bite-size, compelling content that can be leveraged by their teams and absorbed by clients."
Craig Rones, VP of Marketing, NTT DATA Services
The value of strong content
"66 % of marketers say being able to produce engaging, well-designed visual content consistently is their biggest struggle"
As an ABM leader, you are a disseminator of consistently relevant, high-quality information that lets you establish your (personal) brand and stand out as a leading influencer and authority in your field.
Creating stand-out content that is relevant, engaging, and tells your story takes an incredible amount of time, expertise and money.
Developing and strengthening your storytelling skills and approach provides a strong foundation for ABM engagement at every level.
xiQ helps you tell your story
"Successful B2B marketers spend 40 percent of their total marketing budget on content marketing."
Content Marketing Institute
Artificial Intelligence (AI) allows us to perform tasks at a scale that have not been possible as of yet. xiQ's AI-powered Workbench curates millions of documents and content sources and lets you create highly compelling and engaging assets for distribution to prospects, customers, partners and account teams – in minutes!
xiQ's Workbench is an end-to-end content marketing platform for curation, personalization, email and digital distribution and campaign analytics. xiQ's Analytics takes marketing qualification to the next level by incorporating lead scoring, intent analysis and associating AI generated persona analysis to your contacts.
ABM requires thought leadership not sales content
People don't like being sold to. They learn from and follow thought leaders.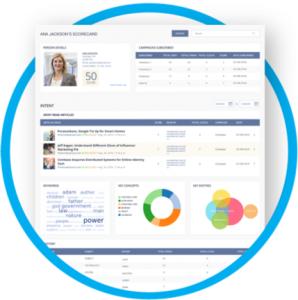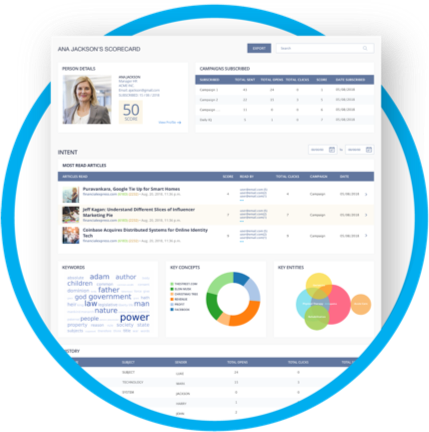 xiQ offers the opportunity to build compelling thought leadership storylines by curating reputable 3rd party content and combing with their own collateral. The combination is a highly combustible content cocktail that generates 5x more engagement.
Leveraging reputable 3rd party sources to support your thesis and strengthen your story:
Is a highly efficient and effective way to establish frequent cadence with your prospects.
The content is always fresh and relevant.
Prospects are not offended instead welcome the spotlight on key concepts, innovations and ideas
The speed with which you can compose and execute a campaign with xiQ allows you to tell your story more often, at a lower cost and with higher engagement and ROI.