Recently, Amazon offered its customers a $10 coupon on Prime Day in return for letting Amazon track the websites and content their customers were viewing. By allowing Amazon to track what they are searching for on rival websites, such as Target and Walmart, users are de facto equipping Amazon with an unprecedented amount of data, enabling Amazon to revolutionize personalized marketing. Amazon is gaining valuable first-hand intent data that allows it to personalize the customer experience, revamp their digital presence and stamp out competition.
What does personalization mean in B2B?
Personalization is no longer a buzzword in the B2B world. Gartner predicts that B2B companies that personalize their sales and marketing will outsell competitors by 30 percent.
Personalization plays an especially strategic role in Account-Based Sales and Marketing. Engaging customers with the right information at the right time can make the difference between winning a deal or losing out to the competition. Delivering compelling experiences requires timely execution by sales and marketing teams.
Reach the top tier of personalization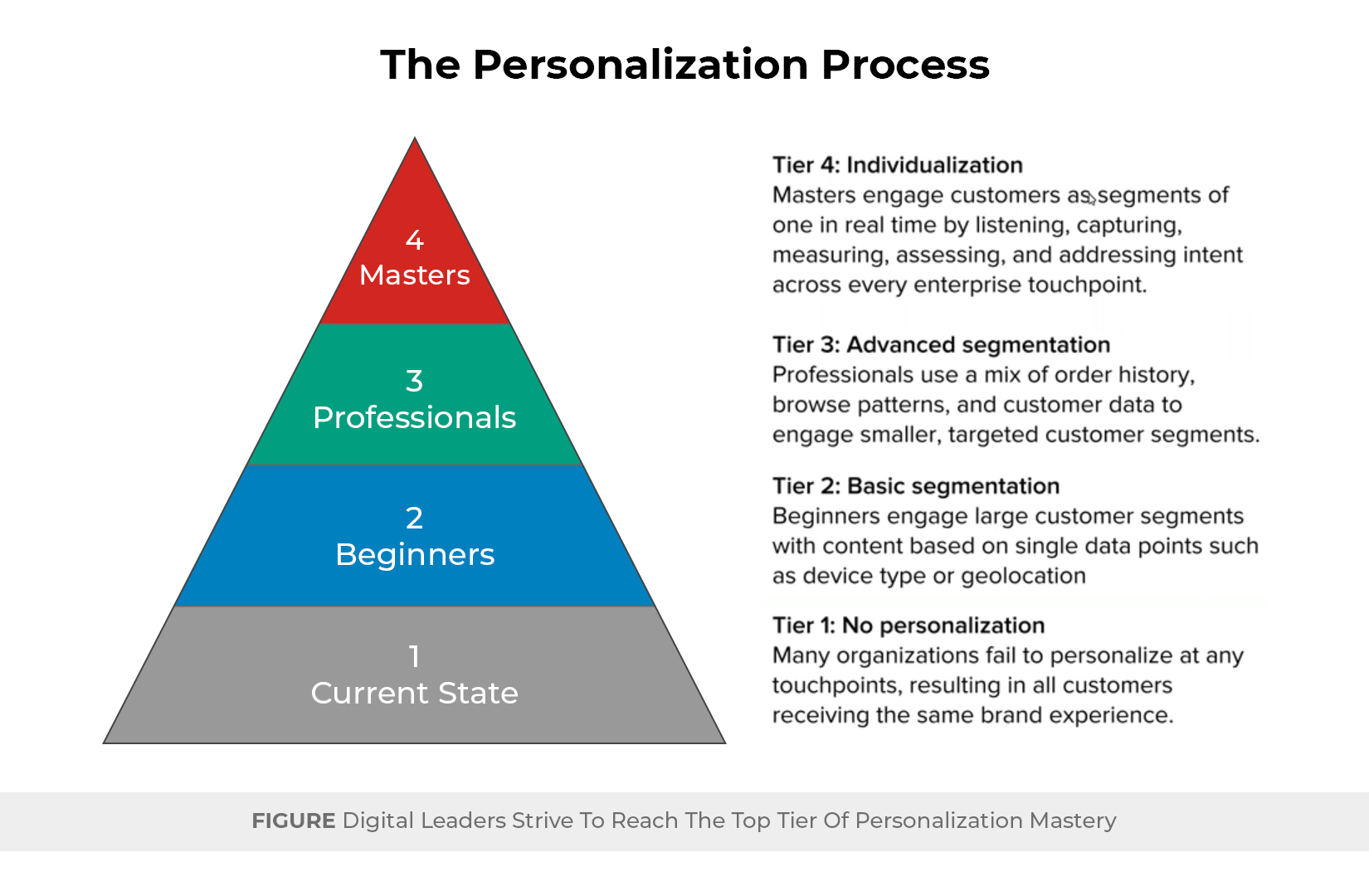 Key Tenets of Personalization
Prioritize and segment audience
The audience you're trying to connect with is probably too broad and unprioritized. Segment and set goals on who and when to engage.
Syndicate content to stay fresh and relevant
ABM is a content guzzler. As a content marketer, you have to constantly create and custom tailor fresh, engaging content like videos, infographics, and articles. Creating fresh content is a time and resource-intensive task that can become an insurmountable challenge.
Stay fresh and relevant by syndicating 3rd party content and combining with your collateral.
Measure the right KPIs
Measuring client engagement has gone beyond open rates and click-thrus. Use sophisticated AI-based tools to analyze first-hand intent data, prioritize and segment audience.
Fragmented processes and antiquated tools
ABM, a next-generation marketing science, is being performed using antiquated and fragmented tools. The end-to-end customer engagement lifecycles span multitudes of systems ranging from content marketing to marketing automation to sales enablement.
Gaining a single view across the customer engagement process is a strategic imperative.
xiQ's ABM platform enables personalization at scale
xiQ is an integrated sales and marketing platform designed from the ground up to address the next generation needs of B2B professionals. xiQ accelerates ABM, monetization and revenue growth by providing AI-enabled tools that:
Personalize client engagement
Provide real-time personality analysis and account insights and
Provide one integrated view across the sales and marketing processes
Design custom tailored content for your outreach
Providing the right message to the right customer at the right time is a cornerstone of B2B marketing.
xiQ's Workbench allows you to curate highly engaging, customized campaigns by combining company collateral with reputable third-party content – within minutes.
Next generation analytics
xiQ's AI powered Analytics automate extracting intent data from campaign engagement. xiQ lets you extract intent data inclusive of keywords, concepts, entities and topics your audience has been engaging with. These nuggets of highly personalized insights are the lifeblood of ABM and enable 1:1 personalization at scale. xiQ also helps you gauge the health of your content marketing by ranking content that resonates most with your audience.
DISC personality insights
xiQ takes 1:1 personalization to an unprecedented next level by associating DISC personality analysis to engagement score and intent data. The AI-generated DISC personality analysis helps build a 360-degree profile of the prospect and offers recommendations on how to engage with that individual.
DISC analysis, intent data and engagement history help sales reps personalize and custom-tailor their pitches.
Do more than just win, create a loyal customer base
By enabling 1:1 personalization, xiQ helps sales reps outsell competitors by 30% and to grow and reinforce relationships you've worked so hard to create in the initial sale.