Account-based sales and marketing (ABM) is complex!
Long sales cycles, multiple decision makers and influencers, a daily barrage of events i.e. executives leaving or new ones being appointed, industry events i.e. M&A activity and much more require the attention of ABM teams.
"On average large companies generate 25 sales triggers, events that warrant a response from the sales team, per day or 125 per week"!
Source: xiQ Research 2019
Needless to say that it's humanly impossible to stay on top of all the sales triggers. The situation is compounded when you add more than one account to the mix.  Missing out on responding to client situations in a timely manner is one of the biggest reasons why deals are lost.
Sales and Marketing need to function as one unit
ABM is a full funnel process and not just a marketing strategy, it requires teams to track and measure every aspect from the first touchpoint to the last. ABM requires marketing and sales teams to work as one unit that conducts an integrated set of plays geared to engage and win targeted accounts. 
Coordinated execution between sales and marketing is the killer piece. 
One seamlessly integrated sales and marketing platform
Another challenge preventing ABM from taking off is the disparate sales and marketing technology landscape. Most companies are relying on outdated CRM and marketing automation technologies, that do not communicate with each other, to perform their ABM. 
ABM requires new capabilities to:
Personalize engagement at scale,
Deliver exemplary client experiences
Analyze engagement and gain insights into the prospects' intentions
Generate engaging content that influences prospects
Most sales and marketing technologies were designed for more than 2 decades ago, before the term ABM even existed, and don't address the prerequisite functional requirements of ABM.
As a result, most ABM projects are still on the drawing boards, waiting for the plumbing to be integrated so that campaigns can start flowing out and insights and dollars start flowing in.
It's time to select a solution that delivers results – now
Is your team equipped with the right set of tools to perform ABM, accelerate pipeline and increase organizational alignment between sales and marketing?
Key considerations when selecting your ABM technology stack
Will the tech stack help me:
Understand the profile of the company and of key buyers and influencers?

Identify all of the decision makers and influencers in the company?

Influence the Buyers' journey?

Provide one unified experience to cross-functional teams so they dedicate time and energy to creating a truly personal 1:1 experience?

How long will it take to get started with ABM and to get RoI?
Tap into the all-in-one data-driven approach to Account-Based sales and marketing
xiQ, an AI-enabled integrated Account-Based Sales and Marketing platform, is designed from the ground up to support the modern-day needs of complex sales cycles.
xiQ combines AI with mobile technology and design thinking to deliver one unified sales and marketing experience. xiQ offers unparalleled technological advantages to outperform and differentiate from your competitors. xiQ fulfills your end-to-end ABM requirements.
Powered by AI, xiQ does the heavy lifting to speed up ABM
Designed for the AI era, xiQ curates millions of terabytes of data to find the nuggets of wisdom that propel ABM to excellence. xiQ offers:
Content for campaigns and client engagement, xiQ-based campaigns deliver 5x greater client engagement
AI-generated personality analysis to custom tailor and personalize engagement
Real-time account insights, in one location, so you are not caught off guard.
SaaS platform that will get your ABM off the ground right away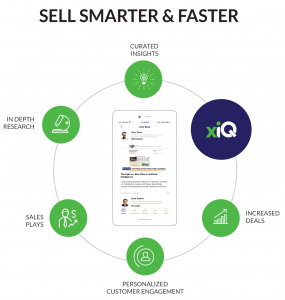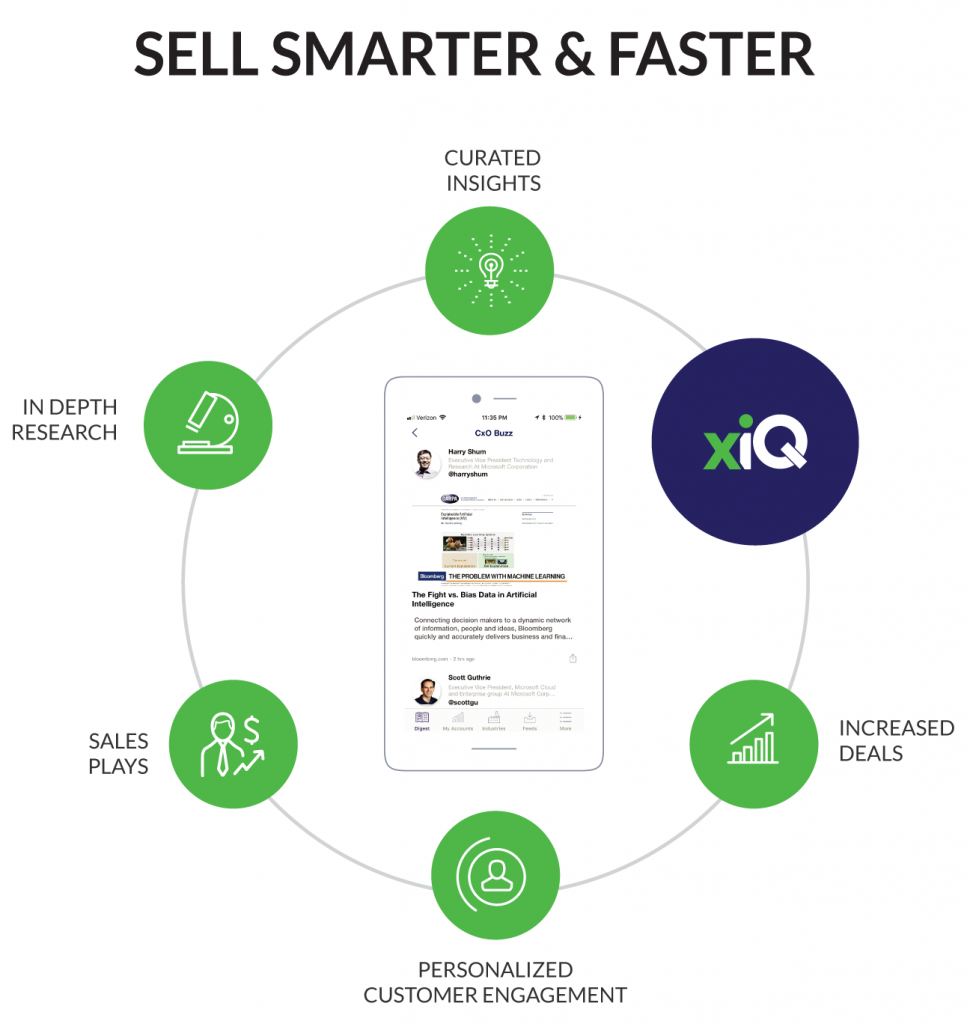 Why you need xiQ – now
Achieve the promise of ABM i.e. 10 – 40% increase in sales within 12 months.
Reduce your stress level,
Miss fewer opportunities,
Gain superior personal insights,
Attain the highest degree of personalization.
Mobilize and Monetize ABM with xiQ!