xiQ's award-winning mobile platform just got better and easier to use.
We have redesigned the user experience of xiQ's iPhone app to further support Account-based Selling and Marketing (ABS & M). The new xiQ is the only mobile platform that brings Account-based Selling & Marketing right into your hands – literally!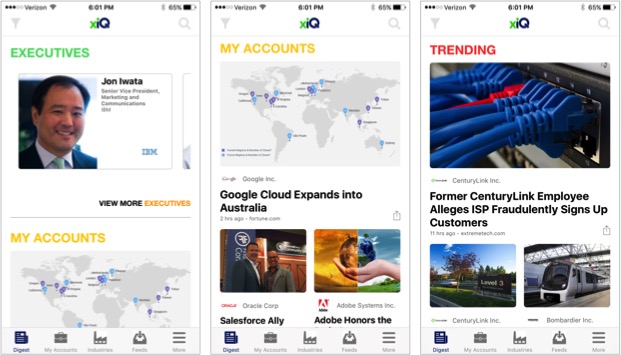 Our goal with this new layout is to improve usage by making it easier to find, read and share relevant insights.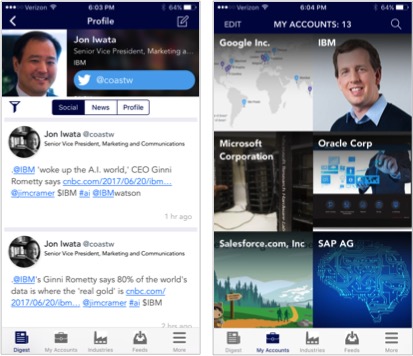 The "Executive" buzz section, features social listening of top executives. The "My Accounts" section, features the top news as it happens, in your target accounts. "Trending" focuses on all the top news in the business world. Never get blindsided. xiQ continues to be the leading resource for real-time Account-Based Insights, deep research and social listening. If you haven't done so already you can
download the xiQ app.
Enter the promo code:
b2be
to start your free trial. Listen, discover and share information in seconds. Make xiQ your one-stop shop for up-to-the-minute account insights and gain the competitive advantage. The only mobile app that provides curated account-based insights, 24 x7, right to your iPhone.
xiQ closes the loop between Account-Based selling and marketing
xiQ combines Artificial Intelligence with Human Intelligence to equip sales and marketing teams with insights to personalize customer engagement, generate better quality leads and win more deals.
SIGN UP FOR YOUR PERSONAL 1:1 ORIENTATION
xiQ's award-winning platform distills massive amounts of information into actionable intelligence. The platform enables personalized content distribution, campaigns, and sales interactions that lead to superior results.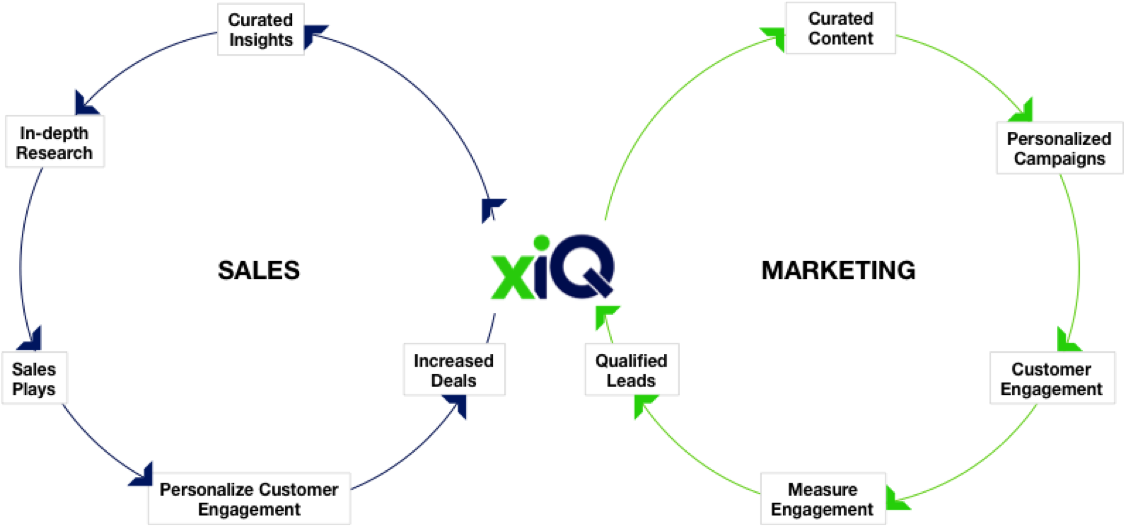 For Sales
Curated insights raise awareness about clients and prospects amongst sales teams, help them personalize customer engagement and become trusted advisors
For Marketing
Marketers leverage curated content to build thought leadership and their brands. They are able to engage their networks and generate qualified leads. Hope you like it. Please send us
feedback
. For more details on xiQ visit
www.xiqinc.com
xiQ combines Artificial Intelligence with Human Intelligence to provide curated insights that empower B2B teams to sell and market smarter and faster. Please send your comments to [email protected]. Download the xiQ iPhone App or access the xiQ web app. Enter code b2be for your free version.